Michael C. Smith's Pittsburgh Steelers Fan Profile
Profile photo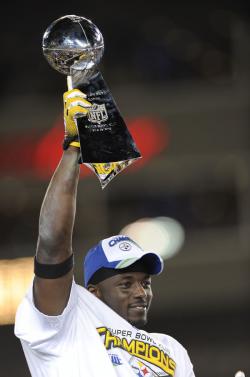 Brief description
A 21 year old life-long Steelers fan, who lives for watching the NFL every sunday.
Who am I?
My name is Michael and I live in Pottstown PA. I hope to make a living as a freelance sports writer someday. My life pretty much revolves around the NFL season. I have been a fan of the Steelers for as long as I can remember. I live and die with every Steelers win and loss, I will bleed Black & Gold forever!
Interests
Following sports, writing
Company / Institution
www.Sportscolumn.com
Michael C. Smith's comment wall
No comments on this wall. Login to post a comment.
Michael C. Smith's Weblog Posts
Steelers Win in a Tight One posted on 11/16/2008

It was the game the Pittsburgh Steelers needed to win to remain serious contenders in the AFC, and a win was exactly what they got. The Steelers took care of business on Sunday afternoon as they defeated the San Diego Chargers 11-10. The win improves Pittsburgh's record to 7-3, but they will little time to celebrate, as they prepare to face the Cincinnati Bengals Thursday night on the NFL Network.
Prior to the game against the Chargers, there were many people questioning Ben Roethlisberger's health and his toughness as an NFL quarterback, even calling him "Big Bend" instead of Big Ben. On this day Roethlisberger silenced his critics going 31 of 41 for 308 yards as he would lead the Steelers down the field for the game winning field goal. Roethlisberger proved that he can play with an injured shoulder and play quite well. Halfback, Willie Parker, had a tremendous day after returning from injury as he rushed for 115 yards. Another player who deserves mention is wide receiver, Hines Ward. Whenever the Steelers needed a big catch it seemed that Ward was there to pick up the first down. Ward had eleven catches for 124 yards.
Continue reading "Steelers Win in a Tight One"
(0 comments)
Colts Upset Steelers, 24-20 posted on 11/09/2008

The Indianapolis Colts got the best of the Pittsburgh Steelers in a 24-20 victory at Heinz Field Sunday evening. It was poor decision making and play by Pittsburgh's offense that cost them the game. The loss drops the Steelers to 6-3, as they are now tied with the Baltimore Ravens for first place in the AFC North.
Coming in to this game the Steelers were once again burdened with injuries to some key starters. Willie Parker and Lamarr Woodley were both injured, and Ben Roethlisberger started at quarterback with an ailing shoulder. Filling in for Willie Parker was Mewelde Moore, who could not get the running game going, as he rushed 24 times for just 57 yards. Moore had two rushing touchdowns, but did not run with consistency.
Continue reading "Colts Upset Steelers, 24-20"
(0 comments)
Leftwich Leads Steelers to Victory over Redskins posted on 11/04/2008

In a Monday night showdown of two of the NFL's best teams, it was the Pittsburgh Steelers who rose to the occasion to get a convincing 23-6 victory over the Washington Redskins. The Pittsburgh defense looked as dominate as ever, but it was backup quarterback, Byron Leftwich, who stole the show. This win puts the Steelers right back in the Super Bowl picture as they improve their record to 6-2.
Coming in to this game Washington Redskins' halfback, Clinton Portis had rushed for over 120 yards in his last three games. On Monday night, the Steelers' defense managed to hold Portis to just 51 yards on 13 carries. Once the Steelers shutdown Portis, they attacked Redskins' quarterback, Jason Campbell. Campbell was under tremendous pressure all night by the devastating blitz packages of the Steelers. The Redskins were just unable to consistently move the football on offense. Campbell was sacked a total of seven times, as the defense forced him to throw his first two interceptions of the season. The Steelers' defense proved why they are ranked number one in the league; it was a truly an outstanding performance.
Continue reading "Leftwich Leads Steelers to Victory over Redskins"
(1 comments)
Steelers/Redskins: Quick Preview posted on 11/01/2008

After coming off a loss to the New York Giants that was hard to swallow last week, the Pittsburgh Steelers will face the Washington Redskins on Monday Night Football. This game is crucial for the Steelers to win, as they do not want to lose two games in a row this deep in to the NFL season.
In order for the Steelers to be successful this week, they must find a way to shut down Washington Redskins' halfback, Clinton Portis. Portis is having a career year rushing for 944 yards and seven touchdowns, while averaging 5 yards a carry. It will be up to the defense of the Steelers to not let Portis have a big night, and force Jason Campbell to throw the football.
It appears that Willie Parker will play on Monday night, but the question is how much? Look for Willie to complement Mewelde Moore in the backfield, probably getting 10 to 15 carries. If Pittsburgh's running attack with Parker and Moore stays consistent and the offensive line protects Ben Roethlisberger, I see the Steelers coming out with a win in D.C.
Continue reading "Steelers/Redskins: Quick Preview"
(0 comments)
Steelers Suffer a Disappointing Loss Against Giants posted on 10/26/2008

The Pittsburgh Steelers came up short against the New York football Giants in a 21-14 loss at Heinz Field late Sunday afternoon. The Giants' defense was just too much for the Steelers as they pressured Ben Roethlisberger all day, forcing him to throw four interceptions and being sacked five times. Many thought this game could be a Super Bowl preview, but it is apparent that the Steelers will have to improve if they want to make it to the big game in February.
Much of game was a defensive struggle between the two teams. But it was the Giants who stepped up and scored 12 unanswered points in the 4th quarter that propelled them to victory over the Steelers. After a bad snap on a punt caused the Steelers to take a safety, it was Eli Manning hooking up with Kevin Boss for a touchdown pass that would end up being the game winning score. Manning finished the day going 19-32 for 199 yards and a touchdown pass.
Continue reading "Steelers Suffer a Disappointing Loss Against Giants"
(1 comments)